10/27/2021
The SatAgro platform can integrate with Trimble's cloud tools. This allows your device information to be shared with SatAgro. Thanks to the integration with Trimble Connected Farm you can send prescription maps created in SatAgro directly to your Trimble terminal and work comfortably with the information available on both platforms.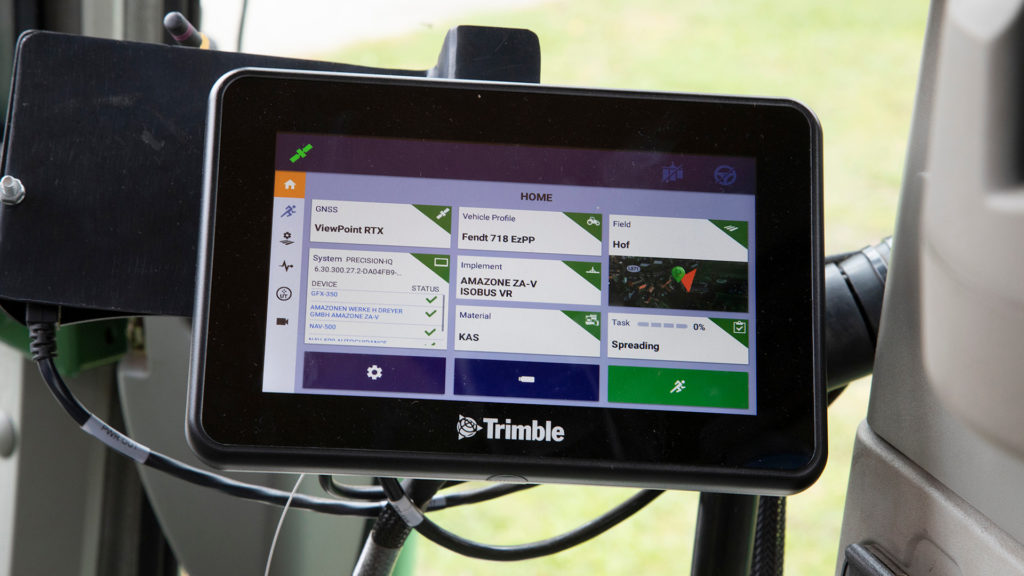 In order to integrate SatAgro with Trimble's cloud services you must first complete the authorization process, after which you will be able to:
Sending prescription maps to Trimble
To upload our variable rate prescription maps to your Trimble account, simply select one of the Trimble terminals available in the Terminal field when creating a fertilization or crop protection treatment.
After creating a treatment, you will find a "Send to" button at the bottom of the module. When you click on it, the "Trimble Connected Farm" option will appear as on the attached image.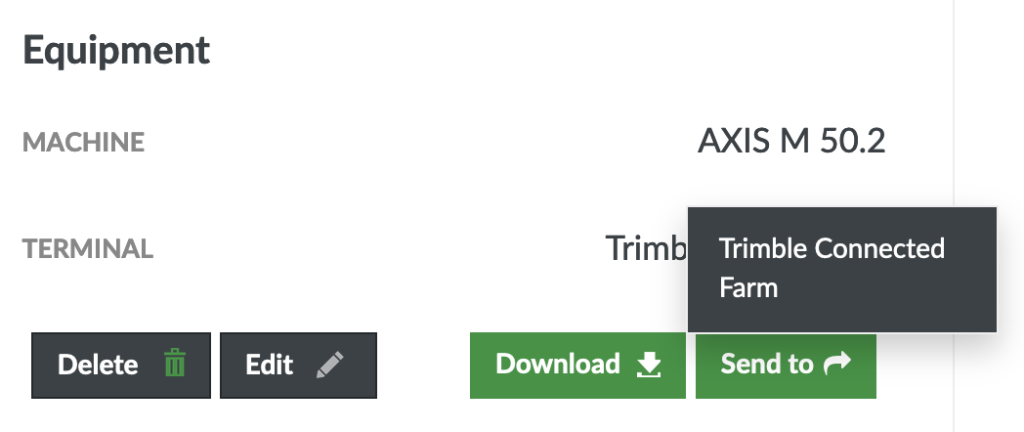 Authorization proces
If this is the first time you want to send your maps to Trimble, or you haven't used this option for a while, when you click on the "Trimble Connected Farm" button, a popup will appear indicating authorization process start. When it is complete, SatAgro will access your Trimble terminal data. This allows you to send application maps directly to a specific terminal or to your organization without using a USB stick.
To start the process, simply click on the "Authorize in Trimble" button and you will be taken to the Trimble login page. There you will need to log in using your Trimble Ag username and password.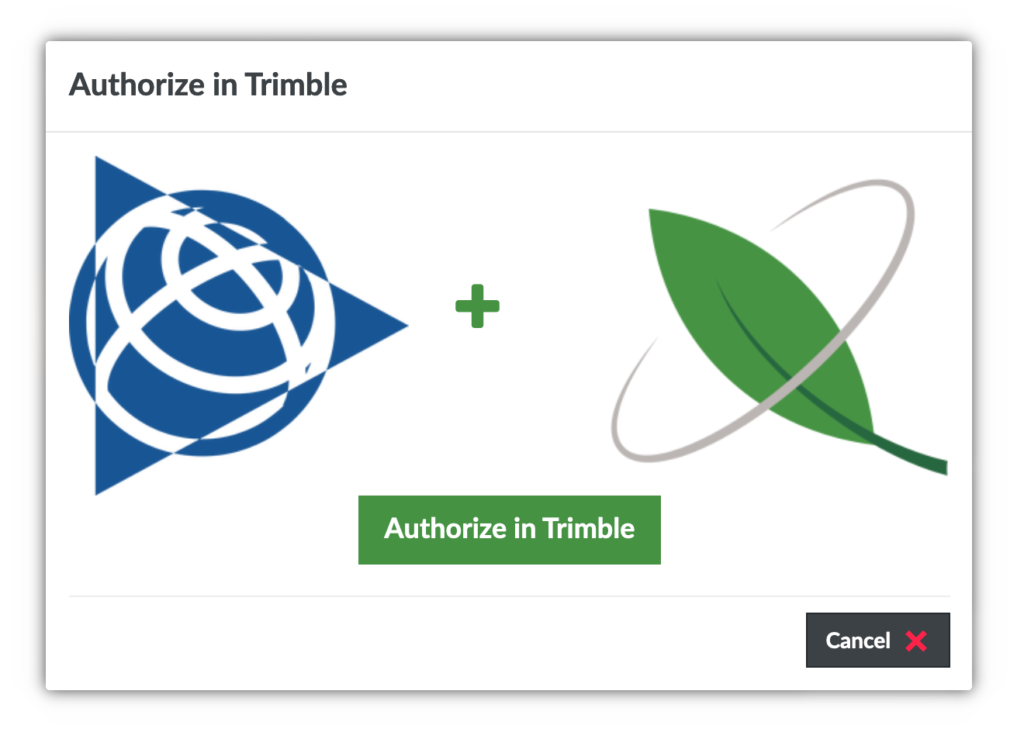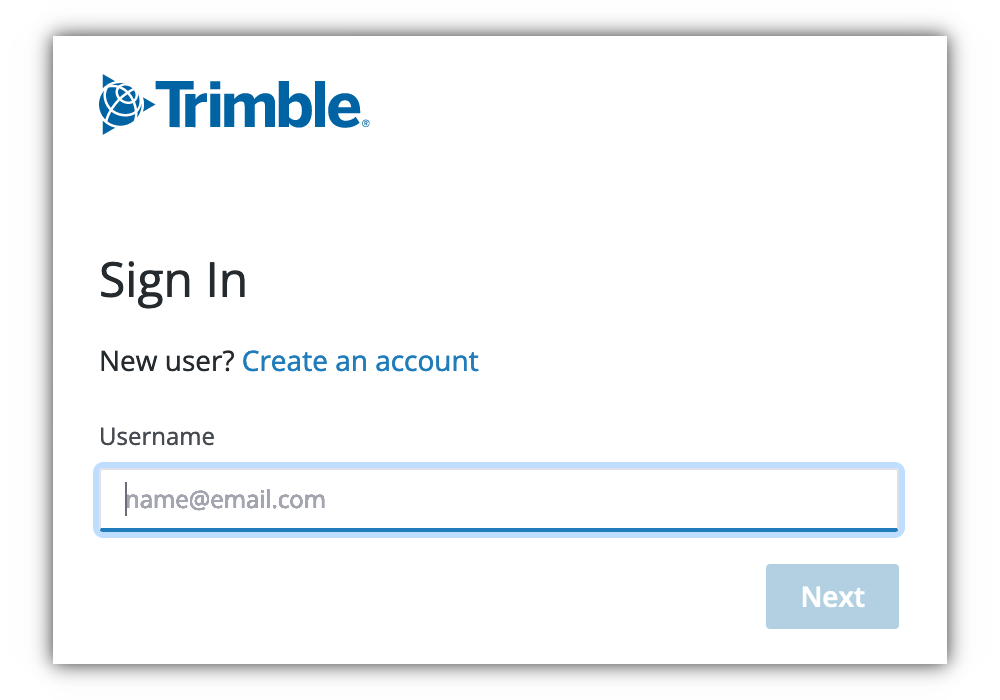 The authorization process consists of several steps in which you must log into your Trimble Ag Software account and approve the integration of your organization's data with SatAgro.
After logging into Trimble, you will see a connection notice where you just need to Allow the connection between SatAgro and Trimble in the popup that appears as soon as you enter your account, as shown in the image below.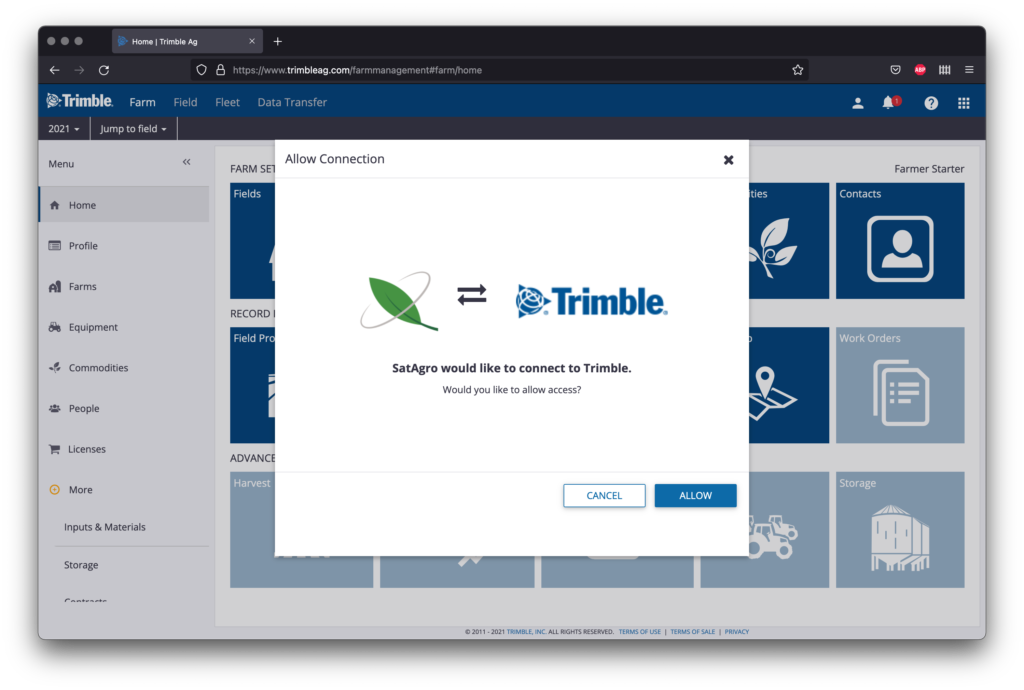 The final step in the authorization process is to assign permissions to SatAgro to access your organization's data. As you will usually only have one organization, simply select it from the list and click Save. This step is only necessary if you are authorizing SatAgro for the first time. Once the whole process is complete you will be sent back to the SatAgro platform.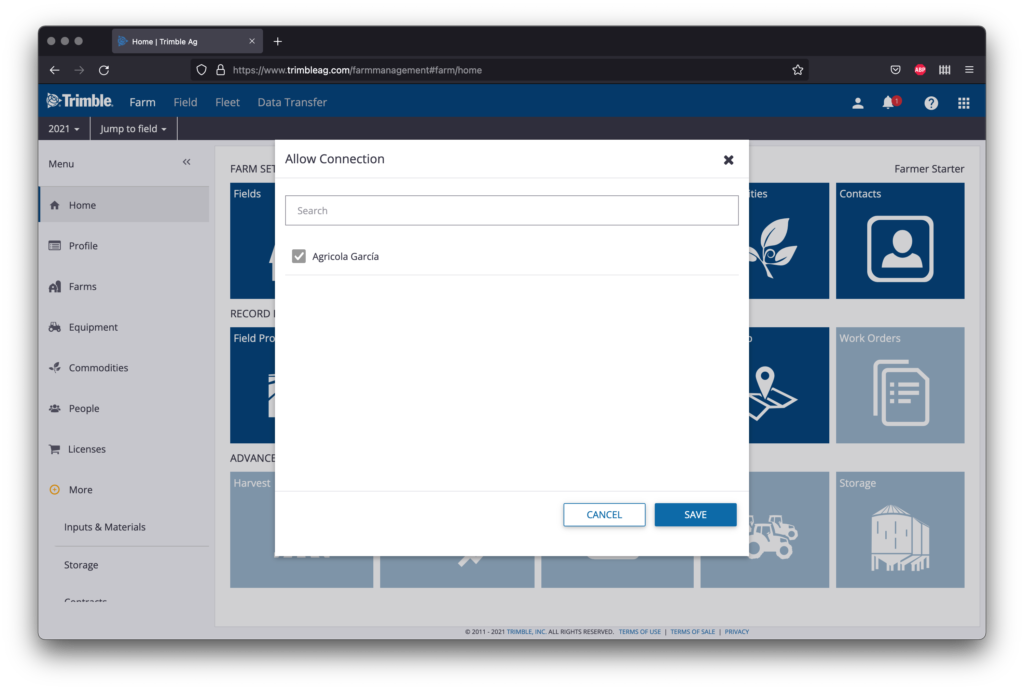 Sending prescription maps to Trimble
Once you have linked your Trimble account to SatAgro and created a treatment where you have selected one of this manufacturer's terminals, it will be possible to upload the prescription map to the Trimble Ag platform. Now if you click on the "Send to" button at the bottom of the treatment details sheet, you will be presented with different options to send it to Trimble. You can choose to send the created maps to your Trimble account or directly to a terminal.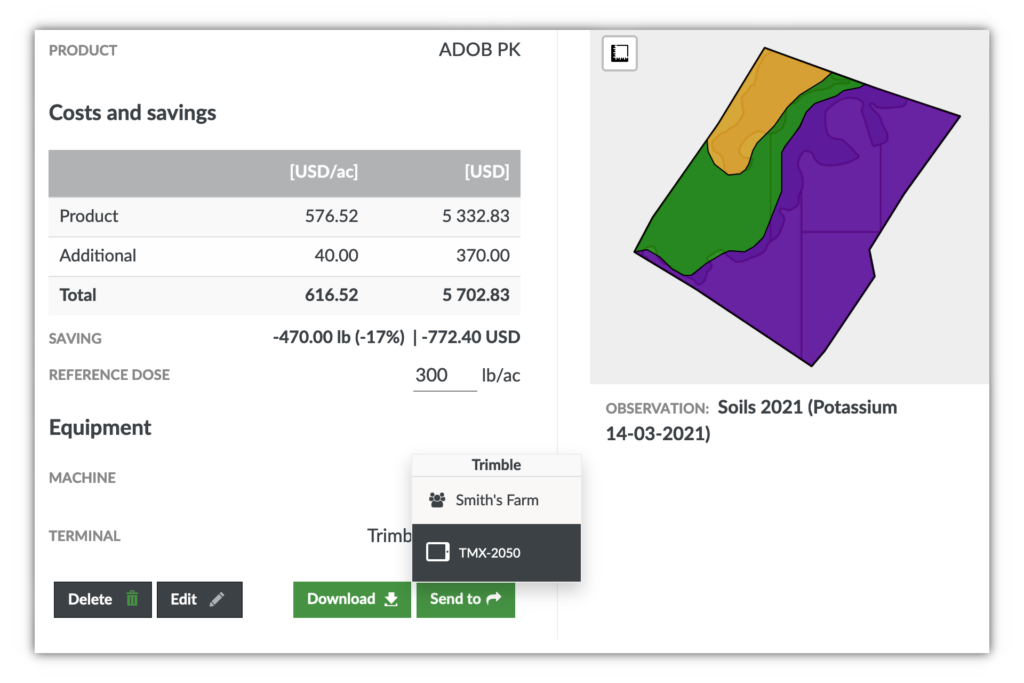 Displaying uploaded prescription maps in Trimble
Once you have sent your prescription map, it will appear in the Prescriptions section of the Trimble Ag platform. To check it, simply log into the Trimble platform and select Field from the top menu, then Prescriptions from the side menu.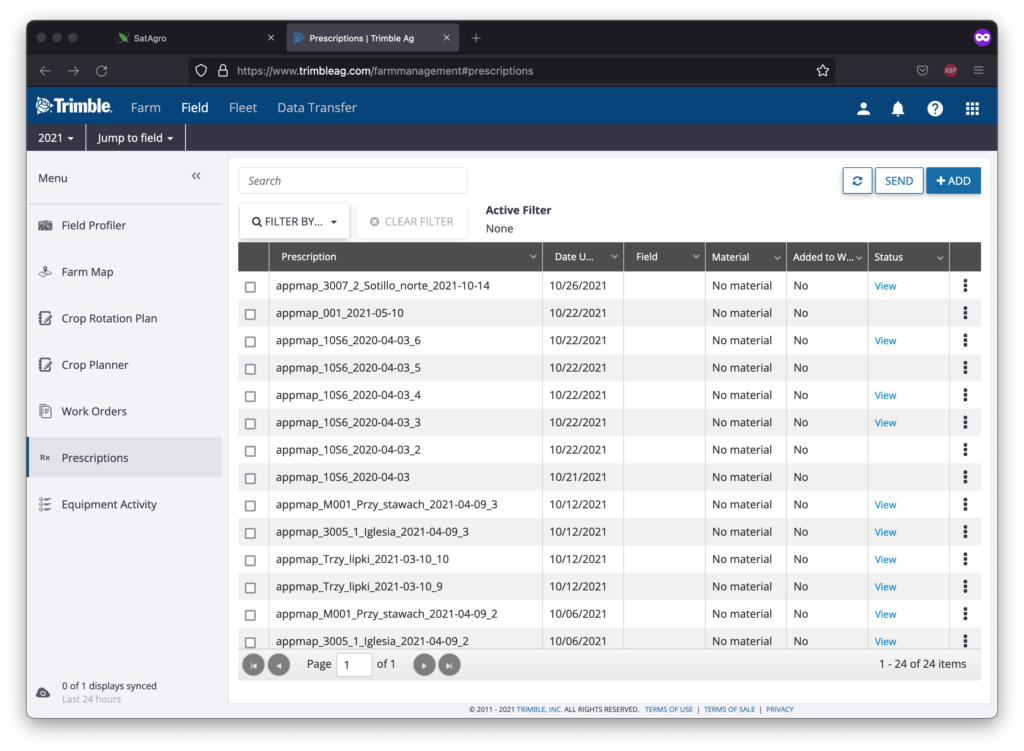 If you have sent the map directly to one of your terminals, you can access it directly from that terminal. To do this, depending on the model you have, you will need to follow different steps. You can check how to load an application map to a particular Trimble terminal through the following drop-down menu:
Import fields from Trimble Connected Farm
If you already have your field boundaries loaded into Trimble, you don't need to add them back into SatAgro. Thanks to SatAgro's integration with Trimble Connected Farm, you can easily import them with a couple of clicks.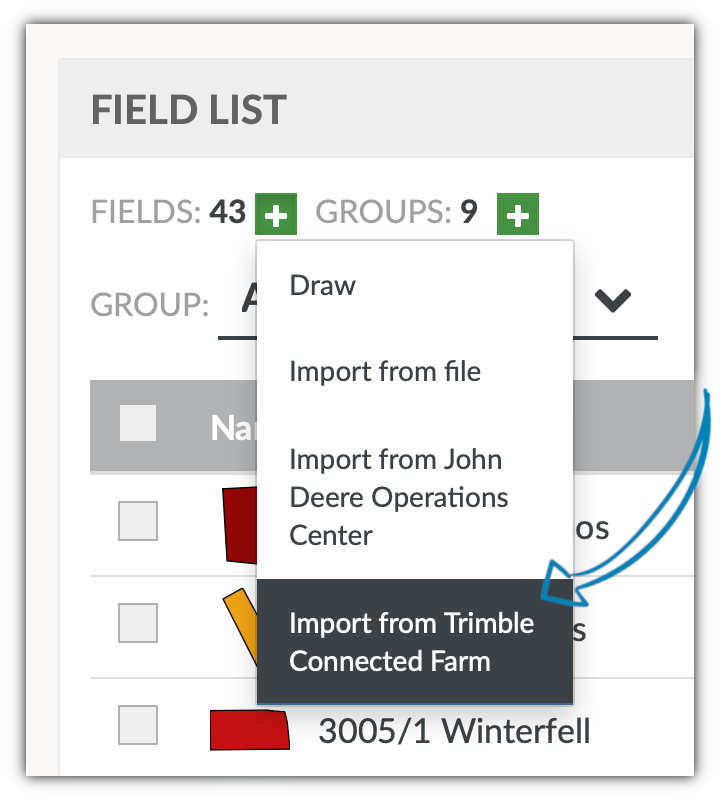 To start importing your fields, first access the section with the list of fields by selecting the top menu option Farm > Fields. Then click on the + button next to the number of fields on your farm and select the Import from Trimble Connected Farm option.
If you have completed the authorization process, the field import tool will appear where you can select the fields you want to add to your SatAgro account. You can select as many fields as you want from a given Organisation, although you must take into consideration the limit of available surface in your account.
Once the fields have been selected, to start the import process you only have to click on the Import button and the process of loading the fields will start.