11/04/2019
We encourage our new Users to get a feel for our application using the free of charge Starter plan. Starter Users can browse satellite imagery and weather data for one, max. 50 ha field.
The paid version of the SatAgro application can be purchased in two subscription tiers:
Professional
Which offers:
Access to all tools within SatAgro;
Data export, including prescription files for VRAs;
Automated alarms;
Access to satellite imagery from Sentinel2 and Landsat8
Premium
Which in addition to the features included in Professional plans offers:
Access to satellite imagery from commercial data providers, such as Planet. Planet satellites offer frequent fly overs and high image resolution (3 m)
Integration of data from the User's private, web-enabled weather stations.
Your subscription tier, size and usage can be seen in the Dashboard part of the app.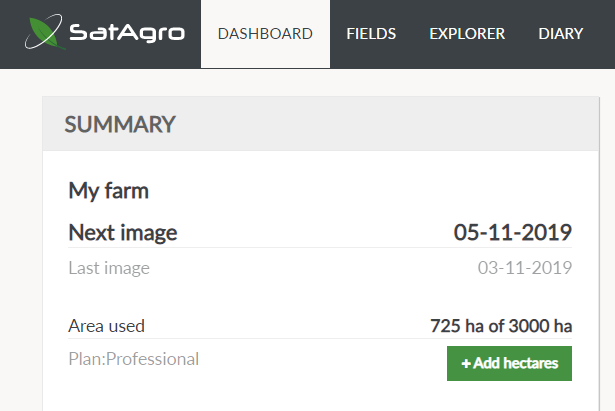 To expand or change your subscription plan, click on "+Add hectares" or click on your Username in the top right of the screen and choose "Plan settings" in the account settings. You will then be able to either change your plan or expand your subscription. All changes you introduce are applied until the end of the existing subscription.